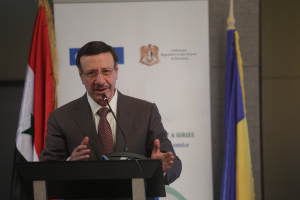 Your Excellencies Ambassadors and members of the diplomatic corps,
Ladies and Gentlemen
I welcome you in today's conference "Reconstruction in Syria between Strengthening Economic Resilience and Opportunities for the Romanian Private Companies."
Please allow me to thank deeply Mr. Flavius Caba-Maria, President of Middle East Political and Economic Institute, for his initiative to hold this Conference. Also, I'd like to thank EURISC Foundation represented by Mr. Liviu Muresan, and the European Titulescu Foundation, represented by Mr. Adrian Nastase and Mr. Florin Luca.
Ladies and Gentlemen,
At the beginning of this conference, I would like to mention the historical relations of friendship and cooperation between Syria and Romania which have been going on for many decades. They are governed by institutional relations and have reached a very advanced stage especially in 2010 when a package of bilateral agreements was signed in all fields Economic, scientific and cultural.
It's well known the huge contribution of Romania to develop the Syrian economy through its large factories as oil refineries, Cement Factories, Phosphate, and land reclamation, which makes it the best country to follow up the maintenance and development of these facilities. The Syrian government is afraid of the idea that these factories are being replaced by factories from other countries.
In this context, the Romanian universities have graduated tens of thousands of Syrian students who have contributed effectively to the economic and scientific renaissance in Syria. Additionally, the Syrian students who stayed in Romania contributed to the Romanian economy through thousands of Syrian companies. The relations between the two countries never broke during the Syrian crisis, and the lines of maritime transport non-stop. Romanian exports to Syria never stopped also, albeit at a slower pace.
Dear guests,
In 2011, Syria was subjected to an international terrorist war, no history has ever witnessed it. It has been perpetrated by terrorist organizations which belong in their terrorist ideology to al-Qaeda and its affiliated groups. These organizations have committed terrible crimes in Syria, Iraq, Egypt, Libya and Yemen, They received support from regional and Western countries like the United States of America, France, United Kingdom, Saudi Arabia and Qatar.
They aimed at the destruction of Syria and to fragment it into ethnical and sectarian entities, and to control Syria's wealth, human and economic resources. To achieve this goal, they brought hundreds of thousands of terrorists from more than one hundred countries, and facilitated their entries into Syria through the Turkish boarders. They, provided these groups with arms and finance of billions of dollars, especially Saudi Arabia and Qatar, to achieve Jihad in Syria.
(An example of financing terrorists in Syria is what ex Qatari Prince Hamad Bin Jasem said in many media interviews, very openly, that they spent more than one hundred and thirty seven billions of Dollars to arm and finance these terrorist organizations).
When these terrorist organizations failed to achieve the requested goals, these countries intervened on their own using false claims and pretexts to justify their aggression. Despite all the plans and money to destroy Syria and its institutions, Syria is now getting out of this war victorious thanks to steadfastness of its people around their leadership and army, and thanks to the heroic victories of the Syrian Arab Army, and thanks to its allies and friends.
Dear friends,
The Syrian government is now controlling more than ninety percent 90% of the Syrian territories, including the territories that were under the terrorists control liberated by the Syrian Arab Army. The normal life started to return to all Syrian cities and territories that were liberated by the Syrian Arab Army. And the emigrants started to return to their cities and villages, especially from Lebanon, Jordan and other Arab and Western countries. The Syrian government is providing them with services and everything needed. It's worth saying that the number of the emigrants who return to Syria from Europe is more than three hundred thousand people.
The Syrian government started to draw up plans for reconstructing the infrastructure and institutions destroyed by the war. These plans covers all economic, health and educational sectors, in addition to other sectors. It's worth mentioning that the government efforts to rehabilitate these sectors never stopped in all Syrian cities during the war.
Reconstruction needs joint efforts from the Syrians at home and abroad, and the participation of the friendly and allied countries- including Romania- and the BRICS. In this field, the friendly countries started contacting the Syrian government, and started sending their official delegations, parliaments, companies representatives and businessmen to reserve a place in the Reconstruction phase.
Thanks to the improvement in the security and political situation ,the Damascus International Fair was held last year, after a break of five years. Also it was held in 2018 with the participation of 50 countries and more than 900 companies, including European companies.
Ladies and gentlemen,
The normal life started to return to the most of the Syrian territories. It's worth saying that life in most Syrian cities never stopped, and the destruction never reached them, not as the media had shown. Some Romanian friends visited Syria, and saw themselves the normal life there. They visited the markets in many Syrian cities. These media played a negative role in misleading the public opinion which started to shift in favor of Syria, because most countries realize, now, that the reality of the war in Syria is a war against terrorism that started to spread to regional countries and to Europe. Thus, Syria is fighting terrorism on behalf of the whole world.
Dear friends,
The Syrian government has taken many important decisions concerning reconstruction in which it declared the welcome of the participation of the allied and friendly countries in the reconstruction process. Romania is one of these countries due to its positive positions towards Syria. The continuation of the work of the two embassies in Damascus and Bucharest is a proof of this good relations.
Hence, Syria welcomes its Romanian friends to participate in the reconstruction, especially that Romania is pioneer in construction and investment fields. Syria gives many advantages that can help foreign investors. The foreign investors can benefit from the economic capabilities of the three sectors; the public, private and the joint. This benefit comes from the partnership relationship between these sectors.
The Syrian government is the only authority that issues approvals for the investors, and signs contracts with them. All the claims saying that big companies belong to other friendly countries are responsible for giving contracts, these claims are totally devoid of any truth. The Syrian concerned ministries are ready to receive Romanian delegations, officials or private delegations, businessmen or companies, to discuss all issues relate to reconstruction or investment in Syria.
Several decrees and decisions were issued in Syria to encourage investment. Also, there is a special independent agency for investment called "Syrian Investment Agency," you can find on its website http://sia.gov.sy/ an investment map for all Syrian cities. We, in the Syrian Embassy in Bucharest, are ready to offer all possible assistance.
Dear guests,
I'd like to give a hint to an important point; the economic sanctions and siege imposed on Syria. In this field, we can say that some European countries applied these sanctions that affected directly the Syrian citizens.
Ladies and gentlemen,
Year 2019 will be the year of openness to Syria, and it'll be the beginning of the reconstruction process in Syria, in a high pace. We, in this conference, invite our Romanian friends to participate in the reconstruction process.
Finally, I'd like to thank, again, the organizers and participants in this conference, which we consider as a good initiative in the course of strengthening cooperation relations and joint work between the two countries. And we consider it to be an encouraging step to participate in the reconstruction phase in Syria. Thank you all.